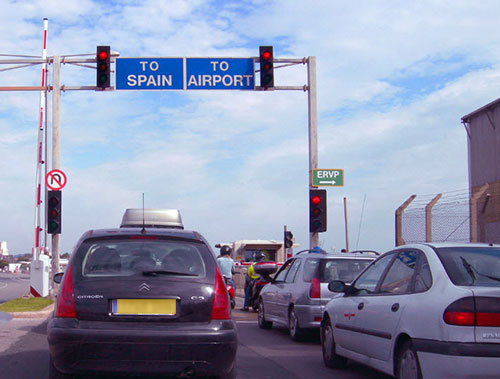 There are numerous misleading articles available on the internet describing Gibraltar Airport as a very dangerous airport in which to land.
We would like to assure you that landing in Gibraltar is no different or riskier than landing at any other airport. In fact Gibraltar Airport does not have the volume of air and ground traffic operating during aircraft operations as found at other Internaional Airports which in fact makes it safer to fly to/from.
Gibraltar Airport is peculiar in that a road spans across the runway. However this road is not Gibraltar's Main Street described in various internet publications. This road supplies traffic to and from the Airport area and the land frontier to Spain. All vehicular traffic and pedestrains crossing is stopped and the road closed by barriers well in advance before any landing or takeoff. There is no possibility of an aircraft encountering traffic on the runway during normal operations. Plans to create a tunnel to replace this road have been on the shelf for over 10 years now.
Low visibility and cross winds are the crucial factor determining if you will be landing in Gibraltar Airport. Any aircraft encountering low visibility or cross winds on approach are diverted to Malaga Airport from where you will be transfered to Gibraltar Airport by coach.